Support Youth, Veterans, and Animals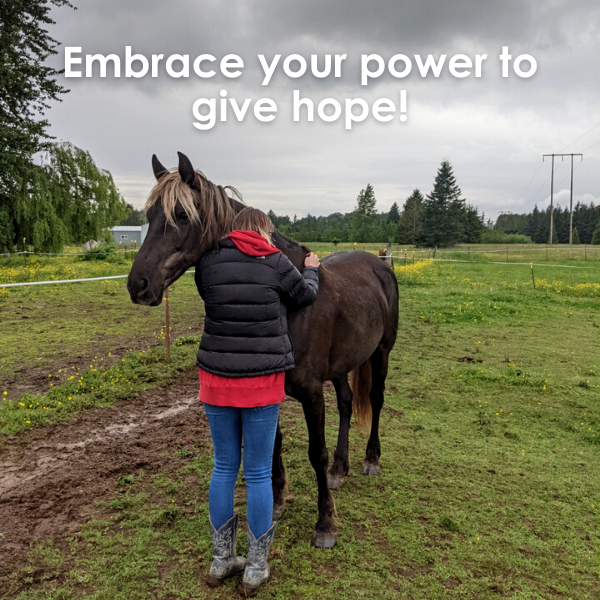 Join our Stable of Support
Spring Pledge Drive
Help a teen find her way through recovery, give a 5th grader new tools to manage anxiety, support a veteran healing from PTSD, and offer an animal meaningful purpose & loving care.
With a monthly donation, help thousands of youth & veterans find healing with animals. A recurring gift is the most meaningful way to support our programs & participants, offering a promise of hope through the combined power of our community! Renew, increase, or join monthly giving today, and you will be entered to win weekly drawings through the end of June. One lucky person will win a Mobile ANT Visit to their home, event, or workplace!
Your monthly gift is hope in action, ensuring that our programs remain accessible to any youth or veteran in need, in spite of the challenges raised by the COVID-19 pandemic. Your support now will also help us settle into our new home and continue providing high-quality, compassionate care to our 30+ animals. Embrace your power to give hope!
You can also call the office or mail in a check to start giving and note that it is for the Spring Pledge Drive.
PO Box 31595, Bellingham, WA 98228
(360) 671 – 3509
To increase or renew your monthly pledge contact the office!
Call the number above or email our Development Director: jessie@animalsasnaturaltherapy.org
Weekly Drawings
All  new, renewing, and members who up their monthly giving amounts will be automatically entered into weekly drawings.
Week of June 7th
win a private farm
tour!
Week of June 14th
win a visit from a goat
at your next Zoom!
Week of June 21st
ANT swag package: tee, mug,
and tote!
Week of June 28th
win a Mobile ANT
Visit!
*Mobile ANT Visit only available within Whatcom County
Pledge Amounts
When you join our Stable of Support you pick the monthly pledge that works for you! We have options ranging from $5 – $100, or you can choose your own custom amount. Whether you give $5 or $500, every pledge makes a tangible difference in the lives of the people we serve and the animals we care for.