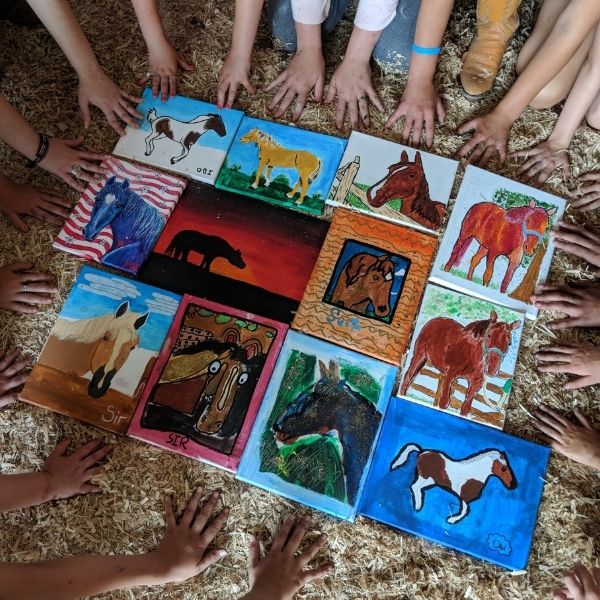 Come join us for a week of unforgettable fun!
Animals as Natural Therapy offers summer camp for youth ages 6-18. Get to know our horses, create fun art projects, play with fun farm animals, meet new friends, develop valuable life skills, and more!
Day Camp helps develop:
Social & Emotional Learning
Leadership
Respect and Gratitude
Communication and Teamwork
Trust
Please note: ANT Day Camp is not a horseback riding camp – while there is some riding involved, it is only a part of what we do at camp. We can suggest a number of other great programs in Whatcom County if your child is specifically interested in riding.
In addition, Summer Day Camps are different from our normal therapeutic programming. To ensure your child will have a successful camp experience, we may contact you for more information. If your youth is particularly struggling, we may suggest enrolling in our after-school support groups instead.
Summer 2021 Dates
Full-Day Camp: 10am-3pm
Unless noted as FULL, there is space available in camps.
July 5th – July 9th FULL (Open for ages 9 and up and all levels of riders)
July 12th – July 16th FULL (Open for ages 9 and up and all levels of riders)
August 2nd – August 6th FULL (Teen Camp, ages 14-18)
Half-Day camp: 9am-12pm
August 9th – August 13th FULL (For 6-8 years olds)
Registration
Registration is first-come, first-served, and is limited to one week per child/family.
Complete a participant registration form, available online or by calling our office at 360-671-3509
A $25 non-refundable application fee is due with your completed paperwork, and can be paid by credit card over the phone, with check or cash or paid online (this fee will be applied towards the total price of the camp)
The Program Coordinator will confirm your child's space once all materials have been received

Checks & paperwork can be mailed to:
Animals as Natural Therapy
PO Box 31595
Bellingham, WA, 98228
Pricing & Scholarships
Full-Day Camps: $550
Half-Day Camp: $300
Limited scholarships are available based on a sliding fee scale. To request an application, please contact program@animalsasnaturaltherapy.org or call our office. Proof of income is required.
Please call with any questions: 360-671-3509
Cancellations & Refunds
We understand that life happens regardless of best-laid plans. However, summer camps are put into action based on enrollment expectations. Refund amounts are based on how far in advance your cancellation is made. *Specific refund requests may be made due to family or medical emergency and will be evaluated on a case-by-case basis.*
Non-refunded summer camp payments will be applied towards scholarships for youth in need.