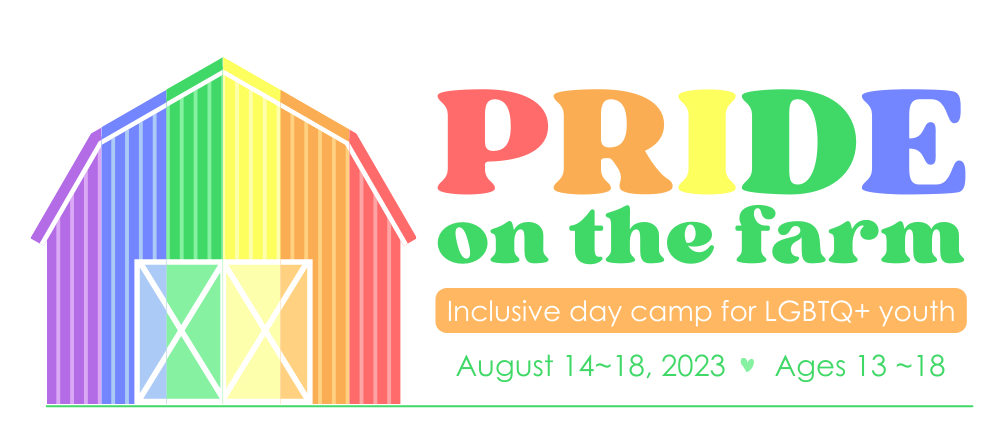 Join us August 14~18, 2023
We are excited to again offer a special week of day camp for LGBTQ+ youth!
This inclusive, affirming camp will feature horsemanship activities like grooming, leading, and riding, creative arts & crafts, playtime & learning with our small farm animals, and more! LGBTQ+ staff and mentors will create a fun and empowering space for youth to make new friends, develop farm skills, and increase self-confidence. Youth ages 13 to 18 are welcome to apply.
Interested in volunteering?
We are seeking LGBTQ+ mentors to help support this camp (and others). Must be 18+ to mentor, training provided. Contact Harper at
volunteer@animalsasnaturaltherapy.org
!
Registration & Forms
Cost: $575 (scholarships available)
Please complete a registration form (below) and return to Animals as Natural Therapy. This includes a Participant Response so we can learn a little bit about your child and why they want to attend! Camp spots are reserved on a first-come, first-served basis. This page will be updated when full, and a waitlist will be available.
Forms can be mailed to PO Box 31595, Bellingham WA, 98228, or emailed to program@animalsasnaturaltherapy.org. Space is not confirmed until registration forms have been received! We are happy to mail hard copies of any paperwork – just let us know! 360-671-3509
Scholarships
Financial ability should never be a barrier to a positive, enriching summer experience! Thanks to community donations, we are able to offer partial scholarships based on family need (proof of income is required). Please download an application (below) or contact program@animalsasnaturaltherapy.org for a printed copy. Please call us with any questions! 360-671-3509