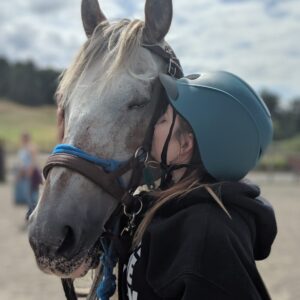 Our New Horizons program, a partnership with Seamar Visions Treatment Facility, helps those in recovery from chemical addictions.
Our equine sessions focus on activities that require participants to utilize specific skills such as assertiveness, verbal and non-verbal communication, problem solving, creative thinking, leadership, maintaining a positive attitude, relationship building, confidence, and teamwork. Equine Assisted Psychotherapy (EAP) has been shown to be effective in treating mental health and human development needs including substance abuse, ADD, eating disorders, depression, anxiety, abuse issues, communication needs and relationship issues.
Sponsor a Recovery Teen
The Visions program is funded by individual contributions and a grant from the Chuckanut Health Foundation. Your support will allow these young women (ages 13-18) to continue pursuing their recovery alongside our healing horses. Sponsoring a Visions teen provides 3-4 months of weekly programs, including group equine sessions and structured farm chores that help develop the skills necessary to succeed in sobriety. In addition to onsite programs, the Visions girls also visit a nursing home twice a month with our small animals to interact with elders, building relationships and sharing empathy.
"When I came to the program I didn't trust anyone. Now I trust me and Sienna (my horse) and I can trust the people around me too. I have confidence in what I am doing. I find a goal and ways to accomplish that goal."
–Anonymous
"I have to be selfish in my recovery, this will help me with my conversation with my mom tonight [because] I need to tell her things she may not want to hear."
–Anonymous
"Patriot taught me to be very, very strong in my plan, and not to just go along with others. My sister will be a big challenge (when I go home). Patriot pulled me into the middle of the arena but I had to be strong to get control again."
–Anonymous