Tails from the field!
Mobile ANT stays busy during the summer, visiting our elder friends around Whatcom County. A perk of summertime visits is that more young people get involved, enjoying their vacation from school. Right now we have a great team of families who join us to share the animals with seniors, and we love getting to know the young people who are excited about giving back to their community. Mobile ANT is a wonderful experience for all ages, so if you're interested in getting involved, make sure to scroll down to the bottom for a link!
"Oh this is so nice. Thank you for bringing these beautiful animals to see me."
~ Silverado Resident
On a recent visit to Silverado Memory Care here in Bellingham, ANT staff, volunteers & therapy animals made a special trip with our miniature horses! These experiences are particularly meaningful for residents who grew up on farms, raised or showed horses, or made a living working with equines. Pictured here is Persephone, one of our miniature horses, with a new friend. At 103 years old, this resident was so excited to have her photo taken with a horse! Her daughter, who was there visiting, was equally emotional to see her mother so happy, and thanked us profusely for bringing the animals to visit. We love this tender moment between horse & human…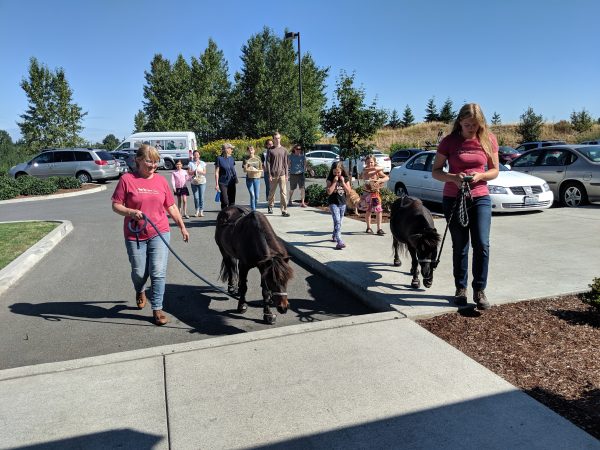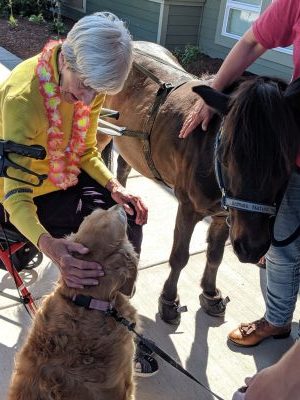 It's not the just mini horses who are the stars of Mobile ANT, however.
Our sweet Gabby, a Golden Retriever, is always the first one in the van to make sure we don't leave her behind. Once free to roam and visit where she pleases, Gabby can usually be found warming the feet of residents or resting her chin on someone's knee, content to stay however long she is needed. Often elders just enjoy feeling her soft fur under their hands, and Gabby is more than happy to remain wherever there is sufficient attention.
"She is so cute, I wish I could keep her!"
~ Silverado Resident, referring to Gabby
Our newest Mobile ANT star is Butter!
Butter is a Bantam chick growing up on the farm! The great-granddaughter of our famous Tinkerbell, Butter is a sweet, gentle bird who enjoys being held & taking naps in her basket. Sometimes we have to encourage residents to pet her, as the novelty of a chicken placed in their lap can often inspire a bit of trepidation, but once they feel her silky feathers and see her eyes gently close as she relaxes under their touch, Butter wins them over.
Last week at Silverado, we spent time in the Sensory Room where we visit with residents who are less mobile, often non-verbal or who have trouble communicating, and who need considerable assistance with daily tasks. We were directed to one woman who was sitting in a wheelchair with her hands curled tightly up to her neck. The only way she could communicate with us was through tears & facial expressions.
I brought Butter's small basket over to her lap and stooped down to say hello. The woman seemed to be unhappy, and even the basket in front of her didn't elicit a different response. I decided then to take Butter out of her basket, and I held the little bird up to the woman so she could see her better. I spoke quietly to her, saying that Butter was very nice and that she liked to be touched.
After a moment, the women unfurled a hand and shakily reached out to stroke Butter's head. As she felt the soft feathers and stroked down Butter's neck, I saw the woman's eyes crinkle up and happy tears begin to fall. She was smiling at Butter!
Butter visibly relaxed under her touch, and appeared to look directly at her new friend, never moving her head. The two stared at each other for another minute before the woman finally took her hand back, this time to rest in her lap instead of tightly clenched at her neck. I glanced over to see one of the facility staff gazing at us with wide eyes, as if in complete shock that this interaction was happening. I realized that it might have been the first time the woman came out of her shell, and all because of a chicken.
As I stood to leave, the woman raised her eyes to smile at me, wet tears streaming down her face. She didn't need words to tell me how meaningful that moment was.

– Jessie (Mobile ANT Coordinator)